Only through philanthropy, is the Epworth Centre for Immunotherapies and Snowdome Laboratories ready to provide the next generation of treatments to people with blood cancer.
Blood cancers combined, which encompass leukaemia, lymphoma and myeloma, sadly claim thousands of lives each year in Australia.
Haematologist Prof Miles Prince has cared for people with blood cancer for decades. He is also a stellar clinical researcher, involved in ground-breaking research to find new options for patients.
Prof Prince wants to keep making a difference, to make sure patients near and far have access to new treatments, when standard ones stop working. And just maybe, there are new treatments on the horizon that work better than the existing chemotherapy?
He believes so.
It is fitting that Prof Prince leads the new Epworth Centre for Immunotherapies and Snowdome Laboratories, ensuring Epworth is at the forefront of the new cancer treatments such as CAR T-cell therapy and targeted therapies.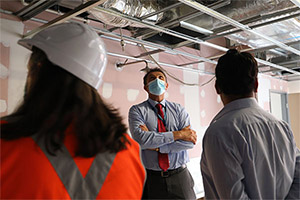 Prof Miles Prince checking on the progress of the build in late 2020
Your support built the new facility
The centre is a partnership between the Epworth Medical Foundation and Snowdome Foundation, who share a common goal to improve outcomes for blood cancer patients, through research.
The supporters of both charities came together, to transform an ordinary building into a purpose-built facility with a refurbished molecular processing laboratory and dedicated cryopreservation laboratory, both to serve cutting-edge treatments. The completed centre also features meeting rooms and workstations for research collaboration.
Finding targeted treatments
The molecular processing laboratory supports the curation of patient samples for genomic testing of more than 17 blood cancer types. Genomic testing looks for mutations to better inform a patient's treatment pathway.
"Personalised treatment is incredibly important. We've got the facilities here to now take biopsies and analyse these to provide the best treatments, and the most accurate treatments, to our patients," Prof Prince says.
The Cryopreservation Laboratory allows Epworth to establish a cell therapy service, commencing with autologous stem cell transplants. The extraordinary vision is to deliver CAR T-cell therapy, a revolutionary treatment where a patient's own cells are collected, modified, and reinfused to fight and destroy cancer cells.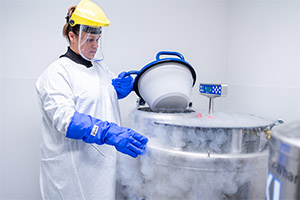 Inside the Cryopreservation Laboratory at the centre
We are excited to keep sharing updates from the completed facility – stay tuned.
What is CAR T-cell therapy? | Epworth Centre for Immunotherapies and Snowdome Laboratories